You are in the updated Knowledge Base for the Canvas Theme.
If you are still using the old theme you can view the correct Knowledge Base here:
https://help.easydns.com/
.
easyDNS now makes it even easier to renew ALL the services within your account. Just log into your account, specify a credit card, and we'll take care of the rest….easy peasy!

Setting It Up

You'll need to do the following in order to enable this feature:

1. Log into your easyDNS account
2. Click on CARD SETTINGS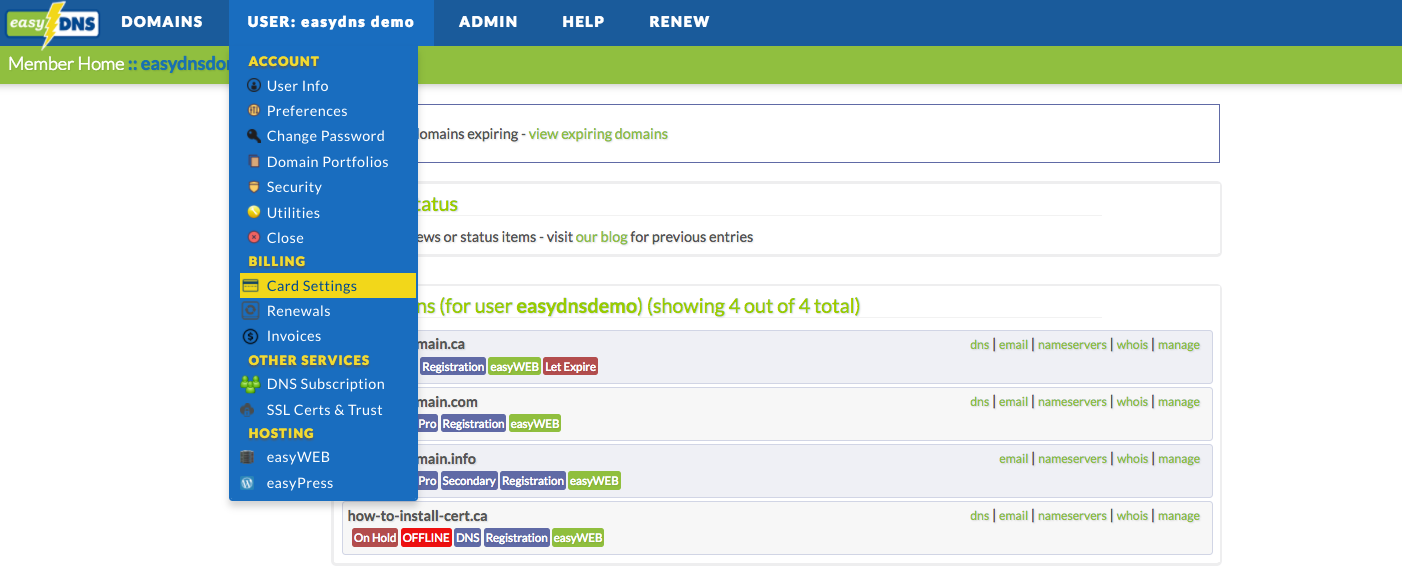 3. Enter all relevant information, check the box, and click on ADD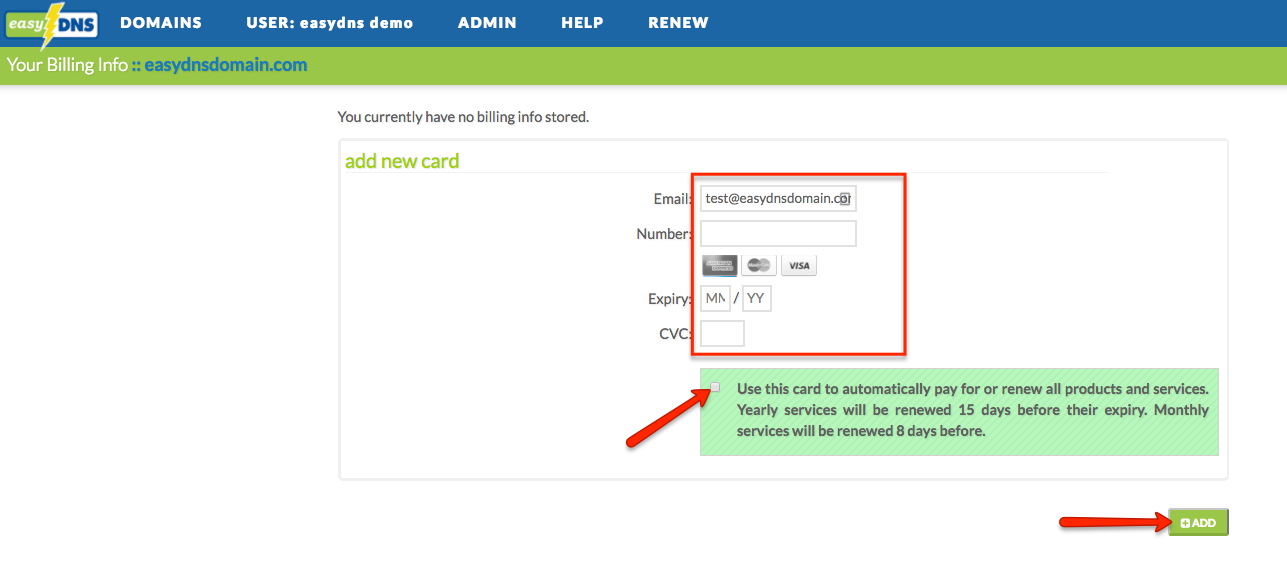 You'll now notice that your credit card has been added to your account. This credit card will be used to renew yearly services 15 days before their expiry. Monthly services will be renewed 8 days prior.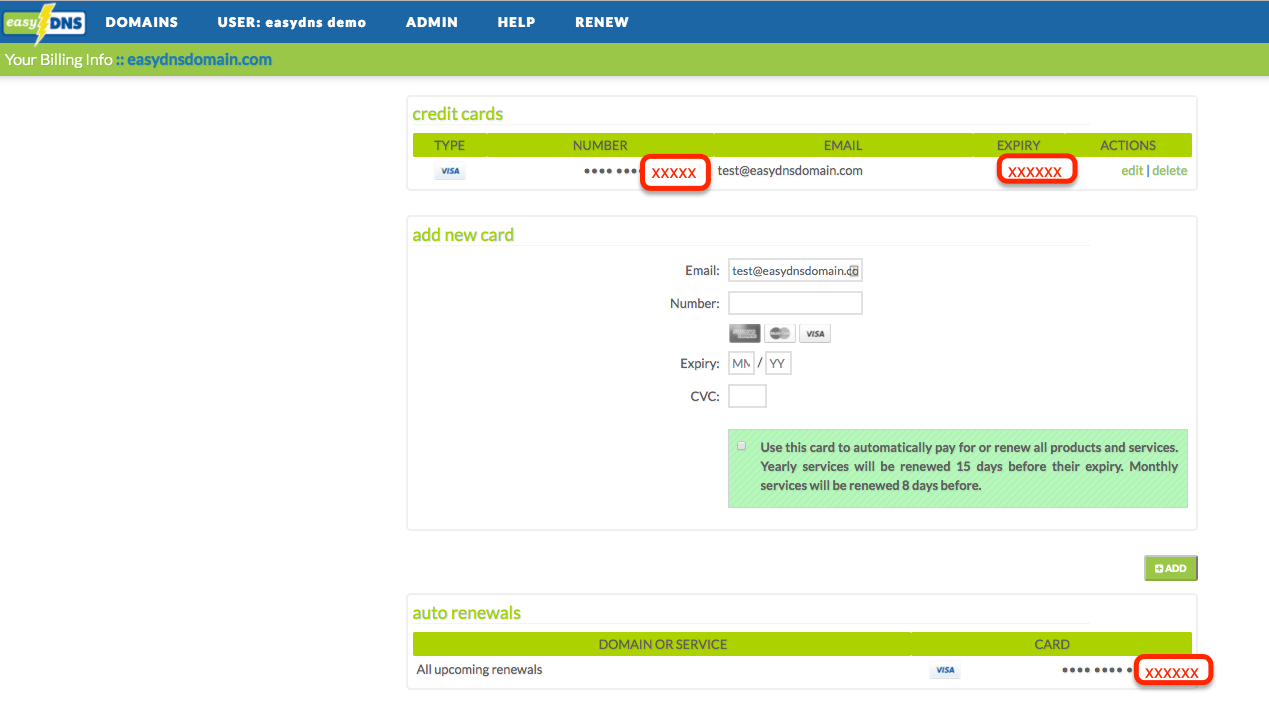 Users also have the ability to add multiple credit cards on file. When you're ready to renew your services, you can just choose which card you'd like to pay with.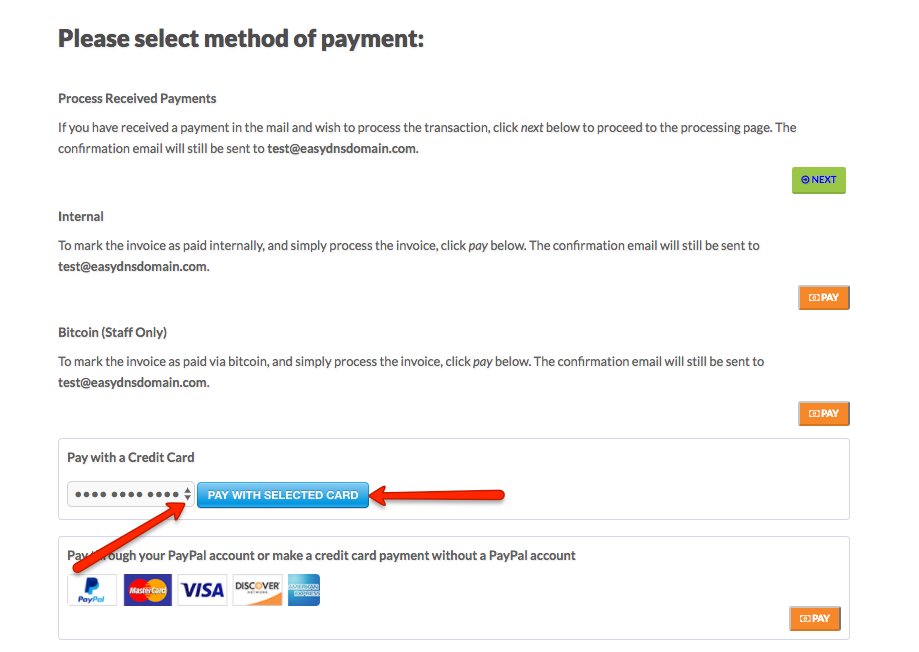 Automated Renewal Notifications
Users should also note that automated renewal notifications will continue to be sent to the email address we have on file. However users will only receive both a 60 day and 30 day notification. These notifications will look like the following:
Subject: [easyDNS] Automated 60 day renewal reminder
This is an automated message regarding your domain.
The domain(s) listed below are up for renewal in
60 days.
You should receive a renewal invoice or notification from us in
a separate email. If you do not, please contact
support@easydns.com.
If you have set up auto renew payments, then we will process
your credit card 15 days prior to the expiry date.
domain1.com, 2015-01-01
domain2.com, 2015-01-04
Exemptions
Although all services will be renewed once this feature is enabled, users have the ability to exempt specific services and/or domains by setting them to expire from within their account. You can see our tutorial on how to set your domain to expire HERE for further details.
Users can also choose to opt out of auto billing by making sure that the green disclaimer box is NOT checked. This will ensure that your credit card stays on file but all renewals will need to be manually done by the user.