You are in the updated Knowledge Base for the Canvas Theme.
If you are still using the old theme you can view the correct Knowledge Base here:
https://help.easydns.com/
.
Our easyMail service is our hosted mail solution which allows you to access, send, and receive email via IMAP, POP or webmail. Please note that in order to make use of our easyMail feature domains will need to be subscribed to a service level that includes this feature.

NOTE:

For more information on what each of our service levels includes, please go

HERE

.


Creating an easyMail User

1. Log into your easyDNS account
2. Click on EMAIL link for said domain (this should bring you to the DOMAIN ADMINISTRATION page)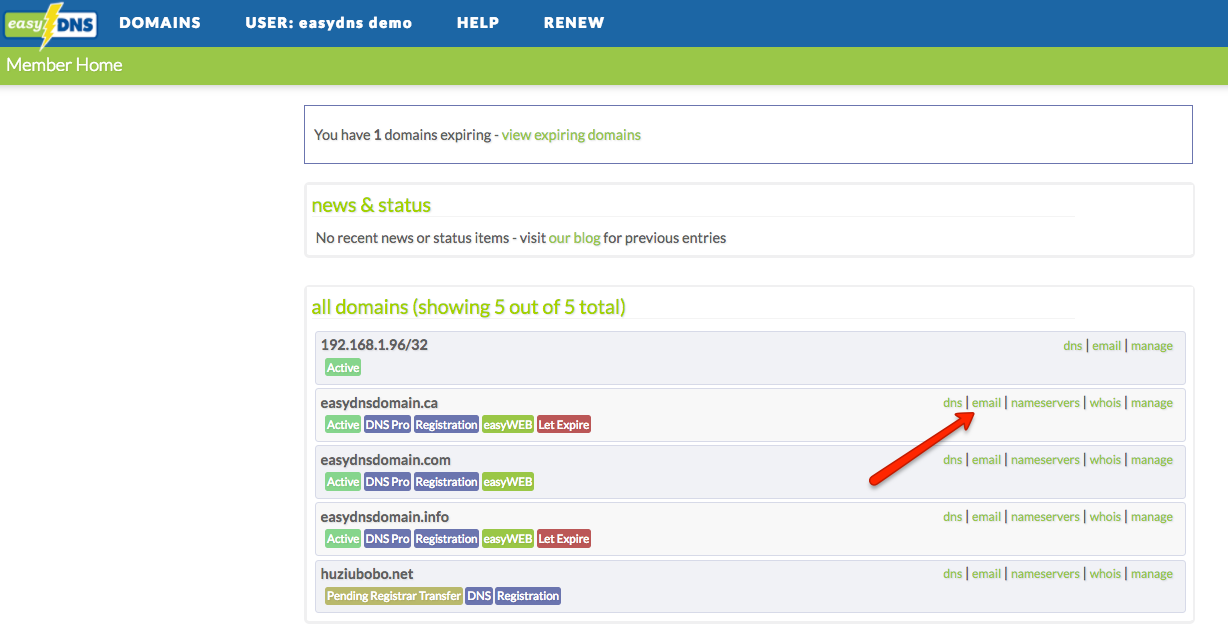 3. Under the EMAIL tab, click on the EASYMAIL

4. Under EASYMAIL USERS, click on EDIT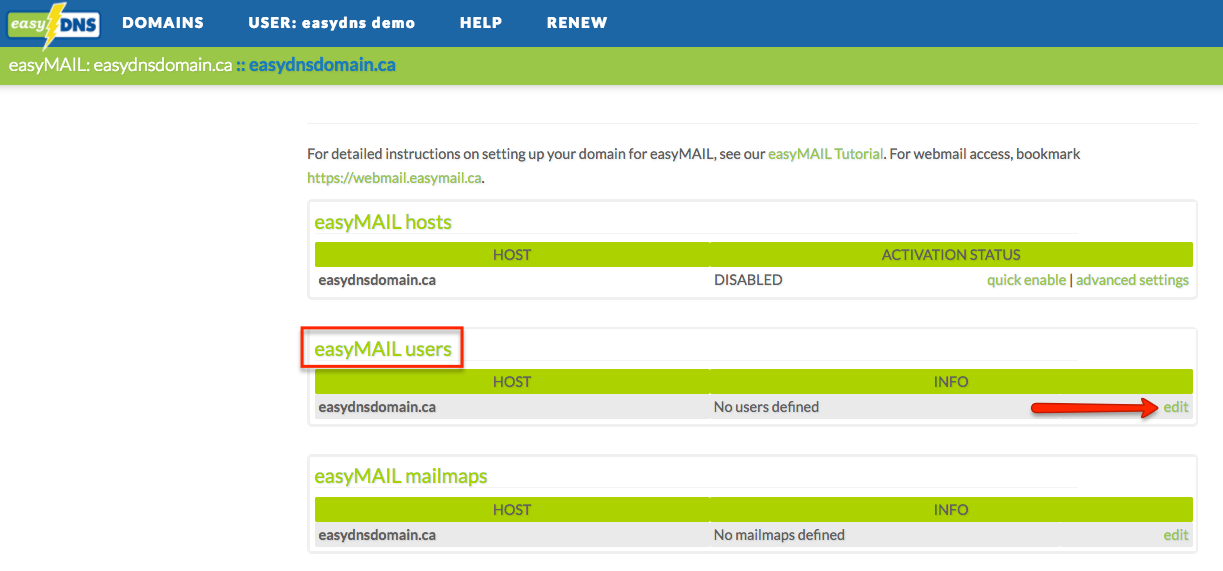 5. Create a user, specify a password, and click on NEXT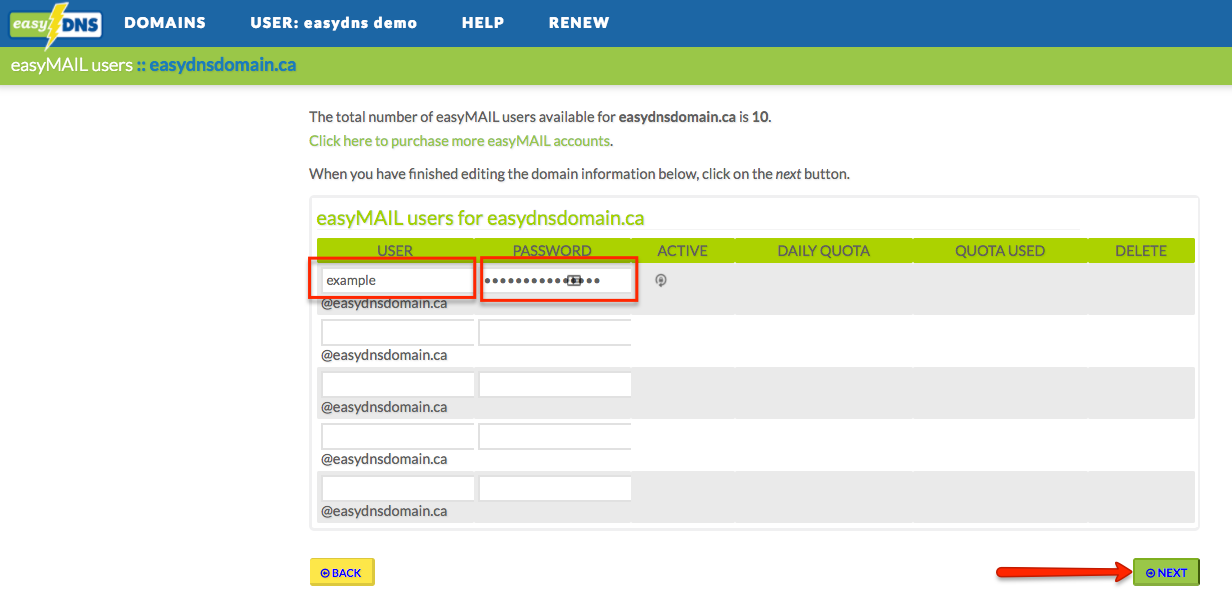 6. Confirm your changes
NOTE: easyMAIL passwords can be up to 32 characters long.

Enabling easyMail
You should now be back on your EASYMAIL page and see the user just created. You'll now want to enable your easyMail service.
7. Under EASYMAIL HOSTS, click on QUICK ENABLE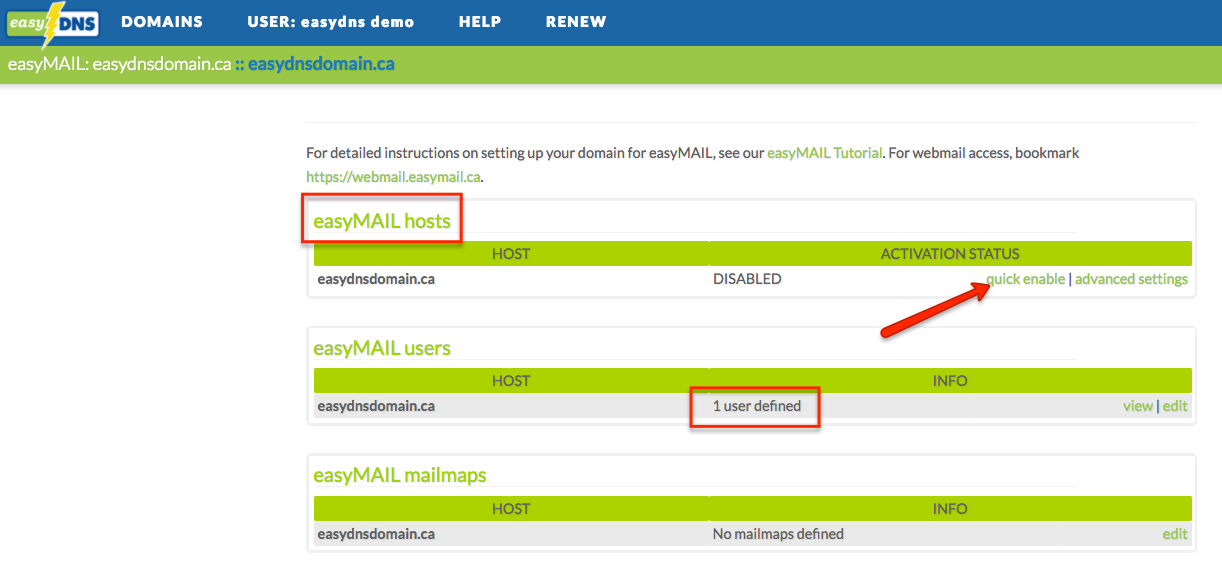 8. Click on OK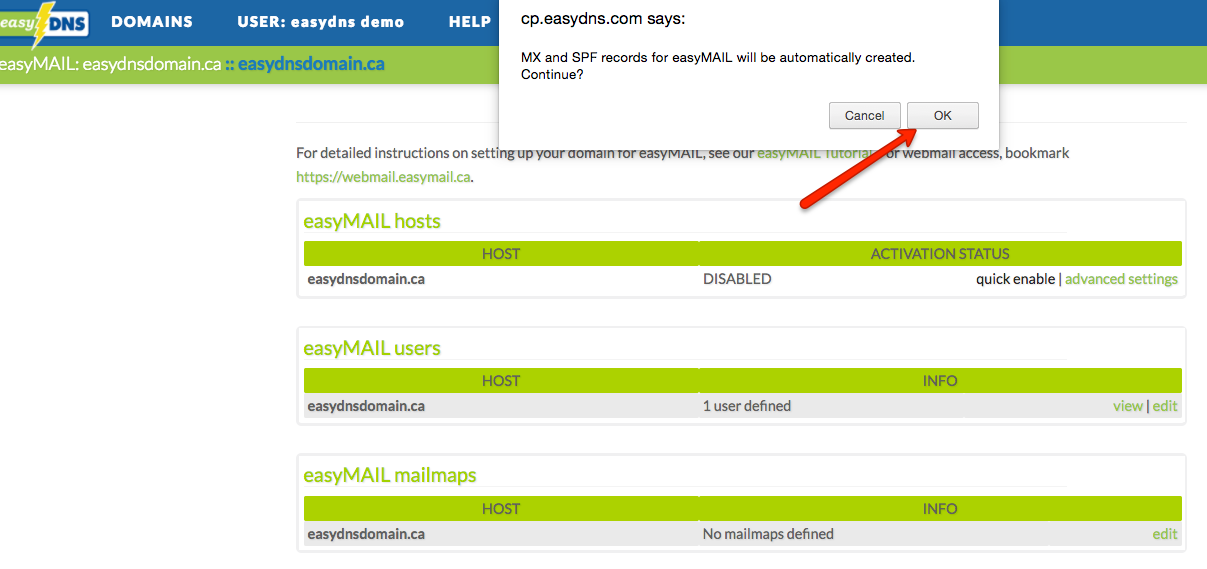 Once you've enabled your easyMail service, it should be ready to use. You can confirm this either by seeing the status as ENABLED or by checking your MX Record under your DNS SETTINGS page: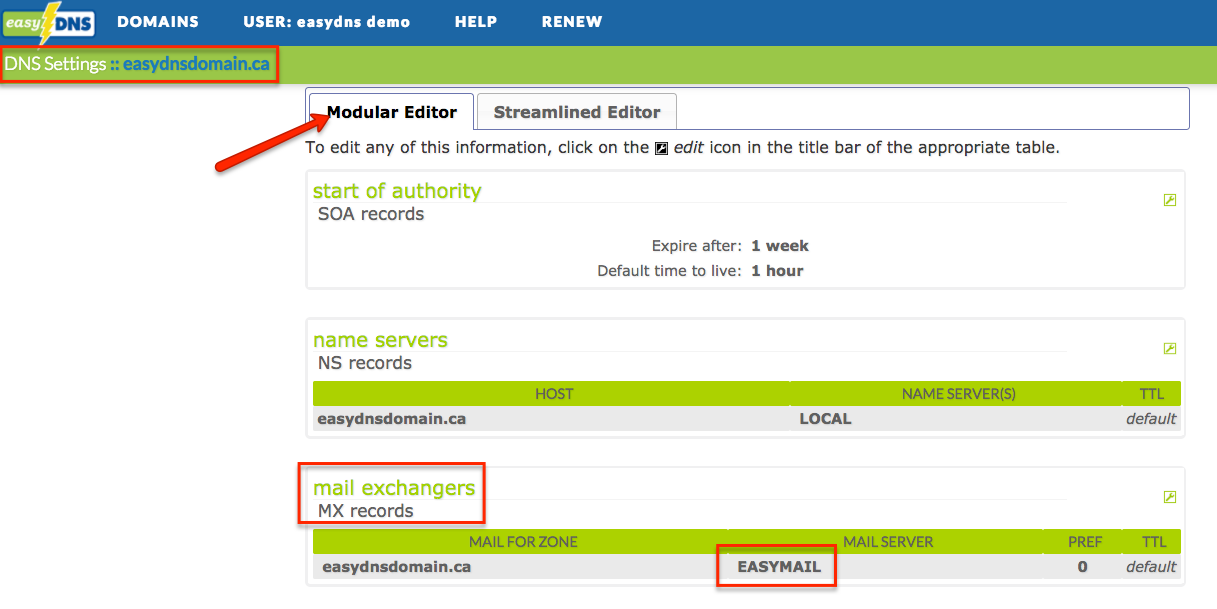 Accessing Your easyMail Account
Once the user has been created and service enabled, you will be able to access your account almost immediately. To check your messages through webmail, please visit the following:
messages.easymail.ca or webmail.easymail.ca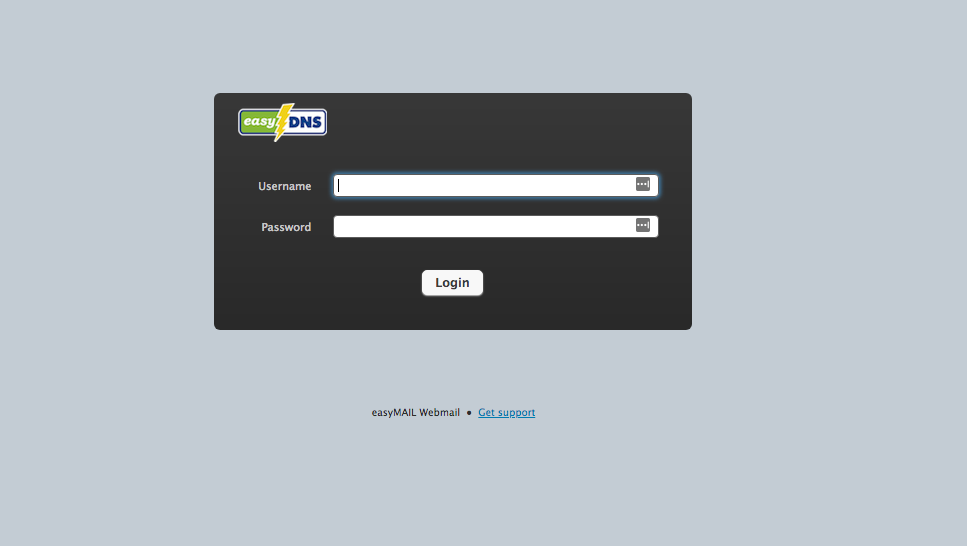 *Your username will be the easyMail address you just created (example@yourdomain.com) and the password will be specific to the same address you're trying to access.* 
NOTE: When an easyMail account is initially created, webmail will only have an Inbox and a Junk folder. The easyMail system uses the IMAP protocol and IMAP itself only mandates the creation of an Inbox. We additionally create a Junk folder so we have somewhere to store junk messages before users log in for the first time. The expectation is that users will create whatever other folders need to be there. This is usually a transparent process for users, as the mail client they may have set up easyMail on connects for the first time and automatically creates whatever folders it needs to match it's preferred schema.

Setting Up easyMail On Other Devices, Email Clients, and DNS Providers
If you are looking to set up your easyMail account on third-party devices such as your Android / iPhone or e-mail clients like Outlook / Thunderbird, you will need the following information:
Incoming Server
• IMAP (Recommended)
Incoming Mail Server: IMAP.EASYMAIL.CA
Server Port: 143
Username: yourname@yourdomain (e.g., me@example.com)
Security Settings: TLS, SSL or none
The default port for SSL enabled IMAP is port 993.
                    **OR**
• POP
Server Hostname: POP.EASYMAIL.CA
Server Port: 110
Username: yourname@yourdomain (e.g., me@example.com)
Security Settings: TLS, SSL or none
The default port for SSL enabled POP is port 995.
Outgoing Server
• SMTP
Outbound Mail Server: MAILOUT.EASYMAIL.CA
Username: your full easyMAIL address (e.g., me@example.com)
Password: your easyMAIL password
Ports: 25, 465, 587, 2025, 20025
TLS (optional): 25, 465 (SSL), 587, 2025, 2026, 20025, 20026
NOTE: To use easyMail with other DNS providers, please specify our easyMAIL MX record within your DNS settings:
MX.EASYMAIL.CA
Pref: 0
This server is not to be used for IMAP or POP connections, ONLY for the MX record.


For further information on how to install your easyMail accounts on specific devices/email clients or for our other easyMail tutorials, please go HERE.