NOTE:
Due to DNS caching,
DNS failover is not intended to be a zero-downtime solution
, but using a low TTL (Time To Live) value (such as 60 seconds), can reduce downtime to a minimum.
For applications requiring high availability, it's important to be notified as soon as there's a problem detected and to automatically make DNS updates to remove a problematic server.
Our Host Monitoring & Failover service provides a simple interface to monitor your server for continuity of web (HTTP/HTTPS), mail (SMTP), FTP, PING, and SSH/SFTP servers. If a service you've specified goes down, we'll alert you immediately. If you've provided an IP for a backup server, we'll switch the DNS for it automatically, so downtime is minimized.
To enable Host Monitoring & Failover for your domain, you'll first need to make sure you have A, AAAA (IPv6), DYN, or URL forwarding records specified because it will be the associated IP addresses that can be monitored. Once the IP addresses are in place, you can take the following steps to enable monitoring and/or failover:
NOTE: CNAMES are not supported for Host Monitoring and Failover records
1. Log into your easyDNS account
2. Click on MANAGE for the domain (this will bring you to the DOMAIN ADMINISTRATION page) – please click on "Switch to Tabbed View" if using 'one-page view'.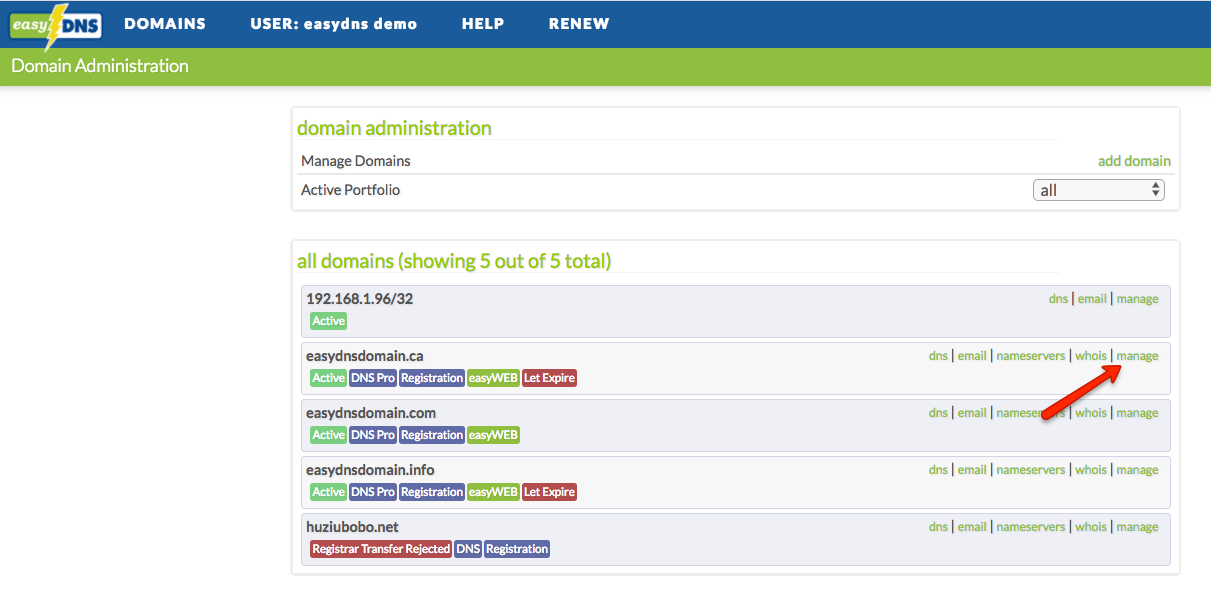 3. Click on the TOOLS tab
4. In the ADVANCED field, click on HOST MONITORING & FAILOVER

5. Configure your host and click NEXT
NOTE: The cost for HOST MONITORING & FAILOVER is $1.50 per month per monitored host (DNS Pro comes with 1 free host monitoring record and Enterprise comes with 3).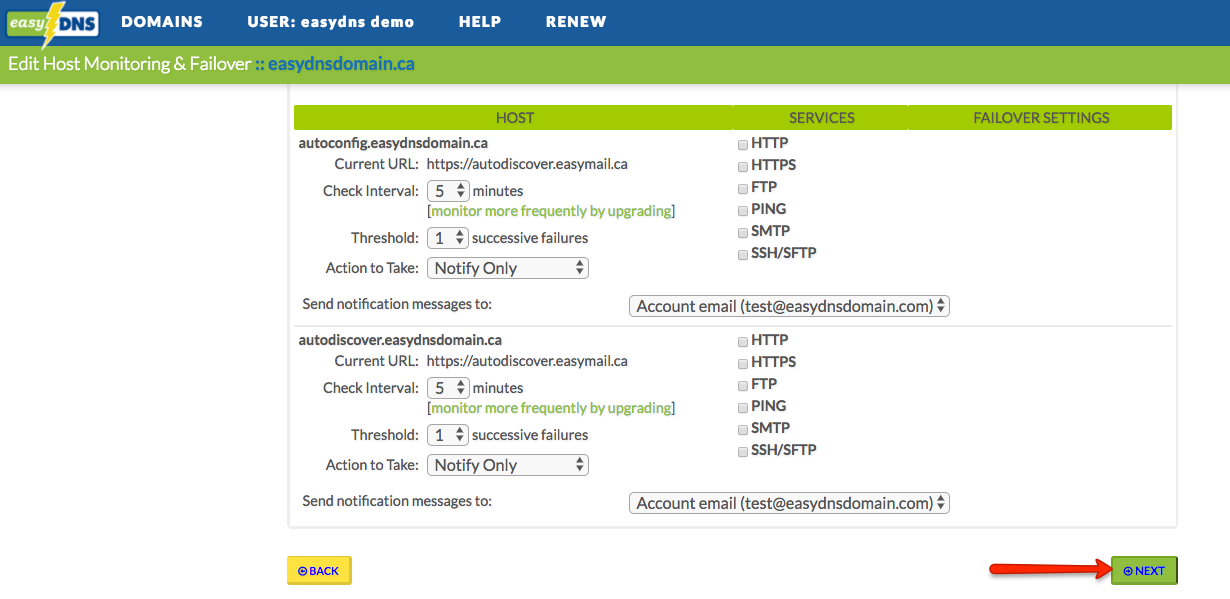 NOTE: The NOTIFY AND FAILOVER option will allow the user to specify an IP address whereas the NOTIFY AND REDIRECT option will allow for a URL.
6. Confirm your changes
Checking off one of the services to be monitored enables the monitoring of that host. If none of the checkboxes are selected, this means no monitoring has been enabled for the host.
Each selected checkbox defines one of the services that we will monitor for you on that host/server. Our monitoring service performs a proper connection attempt based on the selected protocol. This allows you to be alerted, for example, if your mail server application crashes despite the web server continuing to work and the server being reachable by ping.
For a list of host monitoring nodes easyDNS uses for tests, please refer to the Host Monitoring & Failover section of your easyDNS account for the latest IPs for firewall whitelisting.
Services monitored:
HTTP: Web server – port 80
HTTPS: Secure web server – port 443
FTP: File transfer server – port 21
SMTP: Mail server inbound – port 25
PING: ICMP echo
SSH/SFTP: Secure shell – port 22
Settings defined:
Current IP: The current IP address of the monitored host.
Round Robin (RR) IP: Only applies to Round Robin hosts. The IP address of the round-robin host.
Check Interval: How frequently to check the selected services (the time between tests of the selected services).*
Threshold: Number of failed checks to wait before any action is taken.
Action to Take: The action to take when a problem is discovered.
URL to check: If not testing the default index page, specify the exact URL to test.
Text to match: By default, the HTTP status code (404, 200, etc) is used to determine whether an HTTP host is available. Use this field if instead of checking the response code, you want to specify text that should be returned in the HTML.
Send notification messages to: The email address where notifications will be sent.
RR Revoke: This only applies to Round Robin hosts. If set to 'Yes', the Round Robin host will be removed from the pool if it becomes unresponsive.
Failover IP: IP Address of the backup server.
Redirect To: Hostname of the backup server.
Restore: Should failover changes automatically be rolled back when normal service operation is detected, or will changes be made manually. The option for 'On Failure' will revert the failover only when the backup server itself becomes unavailable.
*Please note that our service levels allow for different CHECK INTERVAL times. The maximum times per service level are as follows:
Domain Plus – 30 minutes
DNS Standard – 15 minutes
DNS Pro – 5 minutes
Enterprise – 1 minute
Pricing:  Feature available at all service levels, DNS-Pro includes 1 host & Enterprise includes 3 hosts.
1 host – $1.50 / month or $15.30 / year
5 hosts – $7.50 / month
10 hosts – $15 / month
25 hosts – $37.50 / month
50 hosts – $75 / month
100 hosts – $150 / month