Webmail
To access and manage your e-mail, you can log into webmail. This will allow access to filtering (vacation responses for example) and calendars (for Horde only).
Please refer to our blog post announcing our introduction of Horde and the more advanced features it offers.
—————————————————————————————–
The following are the inbound and outbound settings you will need to enable easyMail on your devices/mail clients:
Inbound
• IMAP
Server Hostname: imap.easymail.ca
Server Port: 143
Username: yourname@yourdomain (e.g., me@example.com)
Security Settings: TLS, SSL, or none
The default port for SSL-enabled IMAP is port 993.
***OR***
• POP
Server Hostname: pop.easymail.ca
Server Port: 110
Username: yourname@yourdomain (e.g., me@example.com)
Security Settings: TLS, SSL, or none
The default port for SSL-enabled POP is port 995.

Outbound
• SMTP
Outbound Mail Server: mailout.easymail.ca
Username: your full easyMAIL address (e.g., me@example.com)
Password: your easyMAIL password
Ports: 25, 465, 587, 2025, 20025
TLS (optional): 25, 465 (SSL), 587, 2025, 2026, 20025, 20026
Please be sure to have an Encryption Type (such as SSL/TLS or STARTTLS) selected in your mail programme. Oftentimes it's necessary to try another port number to establish a successful connection.

Difference between POP and IMAP
POP (Post Office Protocol) is a one-way ticket. You connect to our easyMAIL server in a one-time pop and download a copy of your e-mail then disconnect. With a POP set up, you can't be managing your easyMAIL via multiple devices (mobile smartphone, laptop, tablet, etc). There is no two-way synchronisation between easyMAIL and your device. You have to delete or file the same email on every device.
IMAP (Internet Message Access Protocol) is the two-way e-mail management preferred by users with multiple devices (mobile smartphone, laptop, tablet, etc). If you are viewing your e-mail via your mobile phone, then it will show as viewed on any other device you check your mail through. All e-mail management is synchronised cutting downtime if you happen to check e-mail from multiple devices.
—————————————————————————————–
Other Specifications
Default emails per day limit: 250
Total individual e-mail size allowed (including encoded attachments): 25MB
5GB storage per user
100 mailmaps (wildcard mailmaps allowed)
250 recipients max per outbound message if you have the daily allowance as per our quota enforcement policy (see below for explanation) – a higher allowance allows for more recipients
Mailbox passwords are to be 8-30 characters, with at least one uppercase, one lowercase, one special character, and one number.
—————————————————————————————–
Additional easyMail boxes can also be added for a domain. For pricing information, please see below: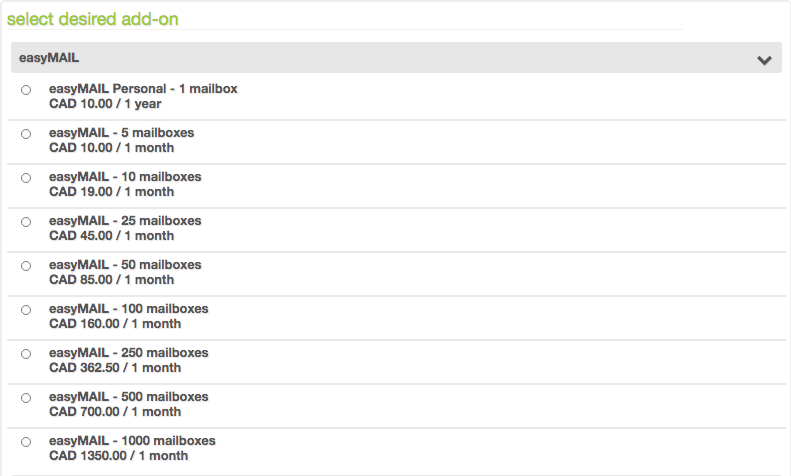 For further information on how to add additional easyMail boxes, please go HERE.
—————————————————————————————–
Outbound Mail
To increase your default 24 hour outbound delivery limit of 250 messages/recipients, please consider the following:
• 500 messages per day – $7.35 / month [$74.97 / year]
• 1000 messages per day – $13.95 / month [$142.29 / year]
• 2500 messages per day – $24.50 / month [$249.90 / year]
• 5000 messages per day – $49.00 / month [$499.80 / year]
• 10000 messages per day – $86.06 / month [$877.82 / year]
—————————————————————————————–
easyMAIL 2.0 – storage allowance
On 01 November 2020, we set firm quotas on mailbox storage size on per user basis.
Pricing for individual mailboxes:
Under 5GB included with all easyMAIL mailboxes
Between 5GB and 15GB is $2.50/month
Between 15GB and 50GB is $12.50/month
Between 50GB and 75GB is $20.25/month
Between 75GB and 100GB is $25/month
Please contact us if you need more than 100GB in storage for your e-mail address
*billing for storage commenced on 21 April 2021
—————————————————————————————–
Quota Enforcement Policy
easyMAIL quota is set to 250 messages/recipients per day [24 hour period] by default – you can purchase more if needed. This is calculated on a per-user [mailbox] basis, not on an aggregate per-domain basis. Each evening we reset the counter back to zero for each mailbox – midnight UTC (click here to know when in your time zone).
—————————————————————————————–
NOTE: To use easyMAIL with other DNS providers, please specify our easyMAIL MX record within your DNS settings:
MX.EASYMAIL.CA
Pref: 0
This server is not to be used for IMAP or POP connections, ONLY for the MX record.