No matter what kind of disaster strikes, you can be back up and running in no time. Further protect your sensitive data with 256-bit encryption.
With our easyBackup service, your virtual server is in the same rack as your backup server. Your restore time can vary depending on the size of your present server/computer configuration.
Our easyBackup service is one of the very few Canadian Cloud Storage Companies with operations exclusively in Canada, meaning we can provide you with a safe and secure place to store data and provide protection under Canadian Privacy Legislation.
Our easyBackup service provides several options users can choose from. These include the following:
30 GB – $9.99/Month
$119.88/Year
50 GB – $16.99/Month
$203.88/Year
75 GB – $24.99/Month
$299.88/Year
100 GB – $32.99/Month
$395.88/Year
250 GB – $81.00/Month
$972.00/Year
All of our storage options are compatible with the following:
Physical servers
Physical workstations
Virtual hosts
Virtual machines
Windows Server Essentials
To add easyBackup service to your easyDNS account, you'll need to do the following:
1. Log into your easyDNS account.
2. Under USER, click on EASYBACKUP.

3. Click on DO YOU NEED ONE?

4. Select your service level, enter your easyBackup username, and agree to easyDNS terms and conditions. Click NEXT.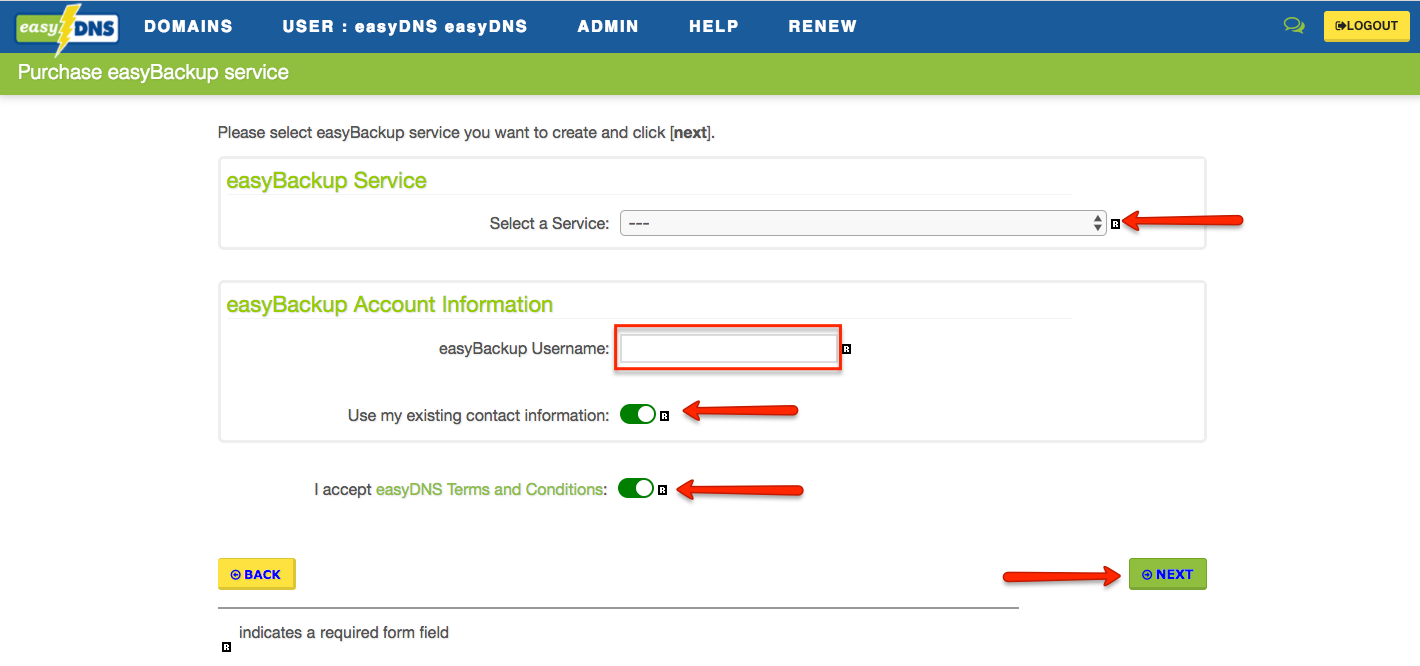 5. Review your transaction and click on CHECKOUT.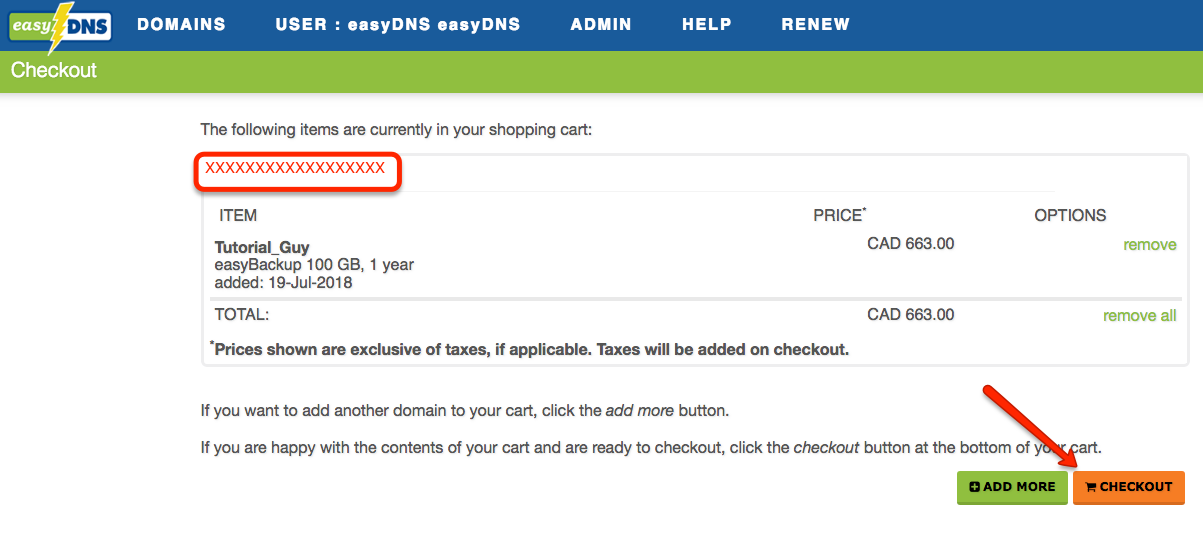 6. You should now see your new easyBackup service within your account under EASYBACKUP: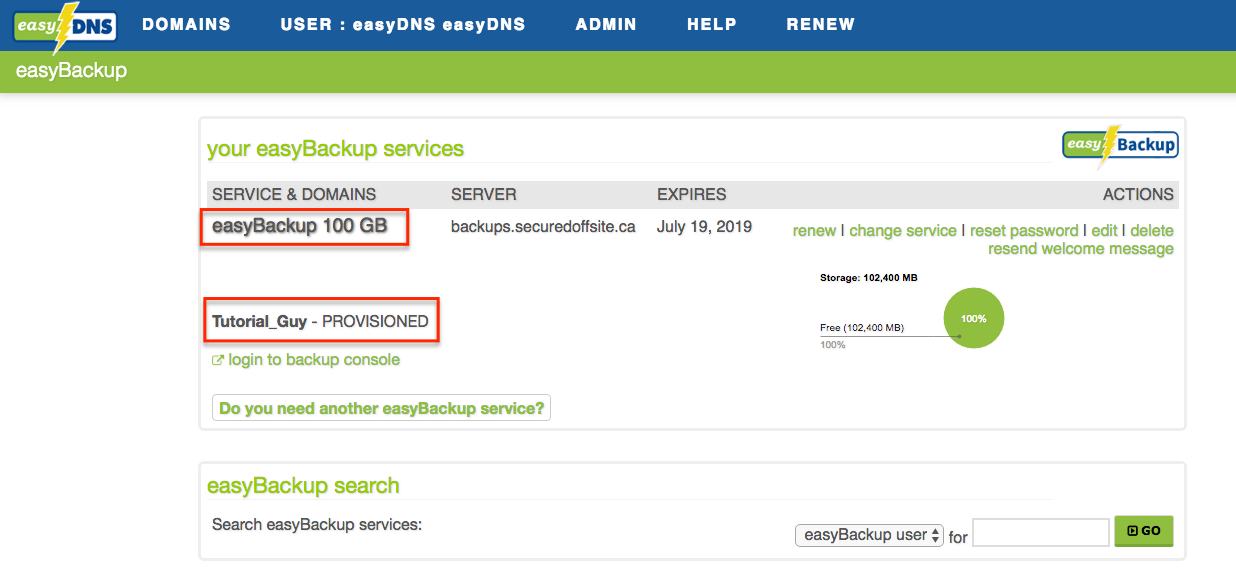 Once you've signed up for the service, you should receive an automated email to the address you specified. This email will contain your easyBackup username, password, and login link. It will look like the following:
Hi xxxxxx,
Welcome to easyBackup, your account is now active.
Please use the following information to access your easyBackup account for managing backup services and devices.
Please note the auto generated password should be changed as soon as possible.
Backup Management Console URL: https://us5-cloud.acronis.com/bc/
User account: xxxxxxxx
Password: xxxxxxxxx
If you have any questions about any of the information contained in this email, please contact our support team via email at support@easybackup.ca or by telephone at 1-855-321-3279 (416-535-8672 locally).

Thank you,
The easyBackup Team
Accessing Your easyBackup Installation
1. Go back to EASYBACKUP under USER and click on LOGIN INTO BACKUP CONSOLE.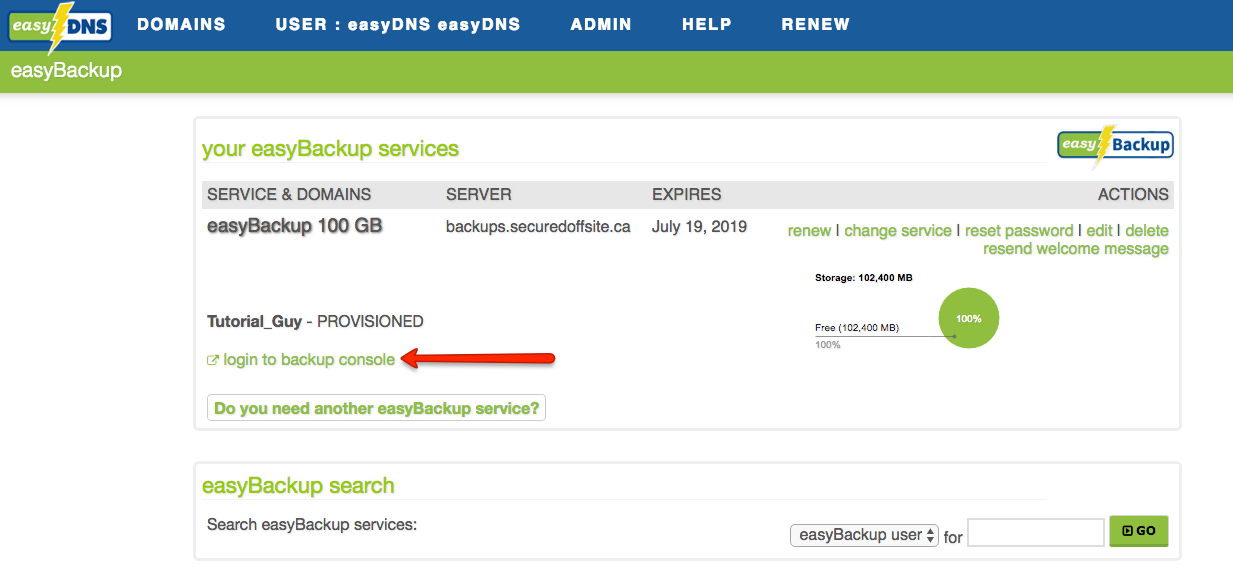 2. Enter your easyBackup username and password that you received when you originally signed up for the service.

3. You should now be logged into your easyBackup console where you can add a device for backup. Users can also click on ABOUT to download a user's guide for the service.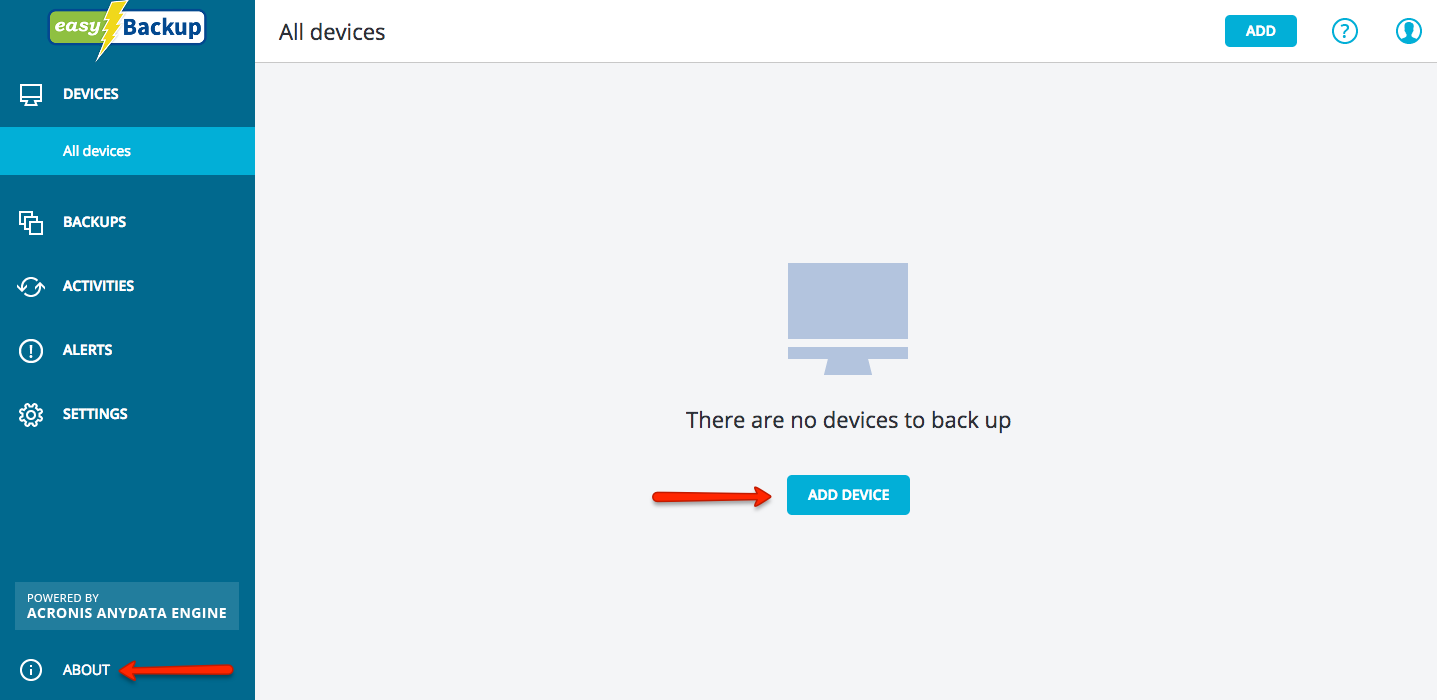 **Please be aware of our data deletion policy [https://easydns.com/terms-of-service/ – #13] – we will delete data for easyBACKUP after 45 days of being past due.