Domain Portfolios let you organize and view your domains through groupings, as well as the ability to share a selected portfolio with one other easyDNS user account.
What are Portfolios?
Portfolios are like folders where domains can be grouped together for reasons of ownership, control, configuration, or whatever other criteria you may wish. Instead of having to remember which domains share a certain parameter, you can instead group them together.
An example of this would be if you are a web developer with multiple clients, you can create an easyDNS account for each one of your clients, put their domain(s) into a specific portfolio and give yourself permission to manage them. This way the client can still pay invoices and "hold the keys" to the domain while still allowing you enough access to get your work done.
Creating and sharing a domain name with another user is a simple process which involves:
Enabling the domain portfolio feature within both accounts
Creating a domain portfolio
Adding a domain to your portfolio
Sharing your portfolio with one other user
Enabling The Domain Portfolio Feature
Please note, Portfolio sharing requires both accounts have 'Portfolio Sharing' activated in account 'preferences'.
In order to enable this feature please do the following:
1. Log into your easyDNS account.
2. Click on PREFERENCES under the USER menu.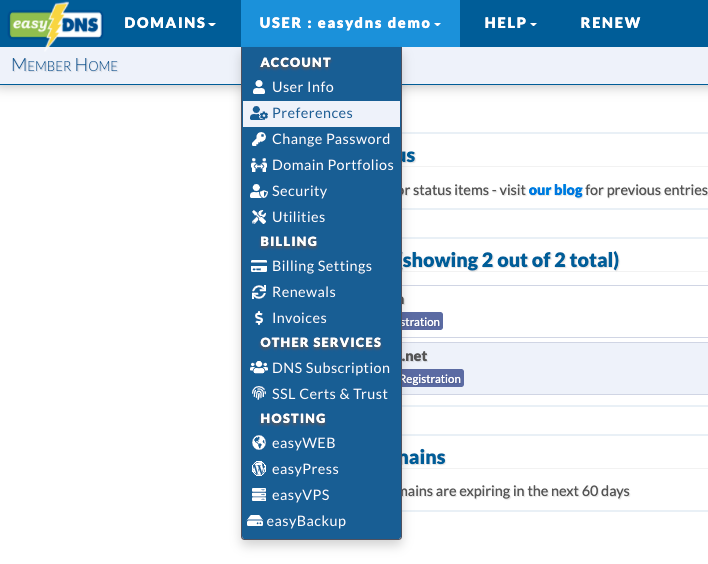 3. Click on YES for ALLOW PORTFOLIO SHARING under DOMAIN PREFERENCES.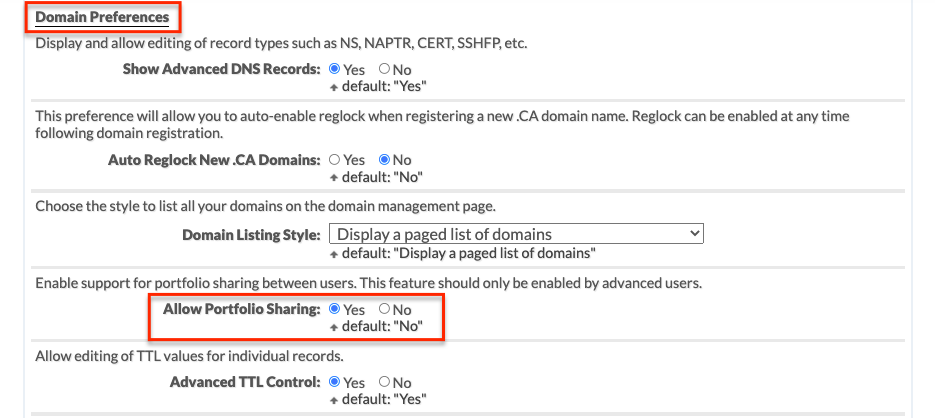 4. Click on DONE at bottom of the screen.
Creating A Portfolio
1. Click on DOMAIN PORTFOLIOS under the USER menu.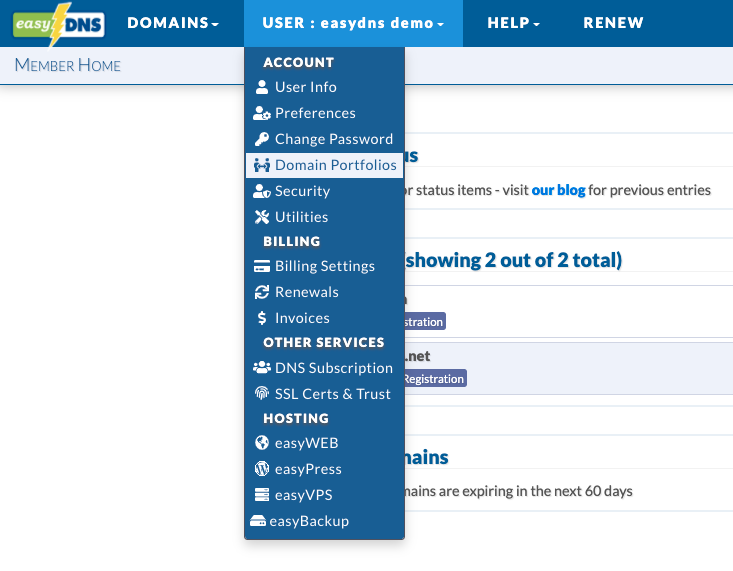 2. Click on EDIT under MY DOMAIN PORTFOLIOS.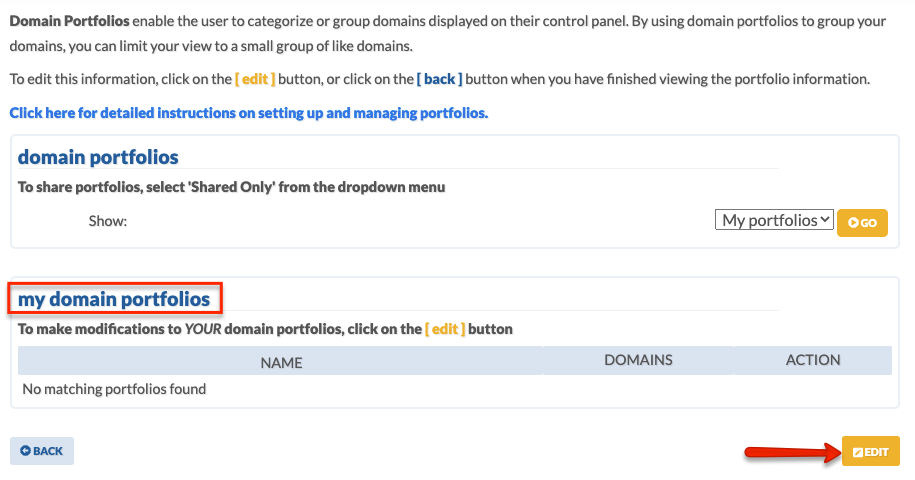 3. Create a portfolio and click on NEXT.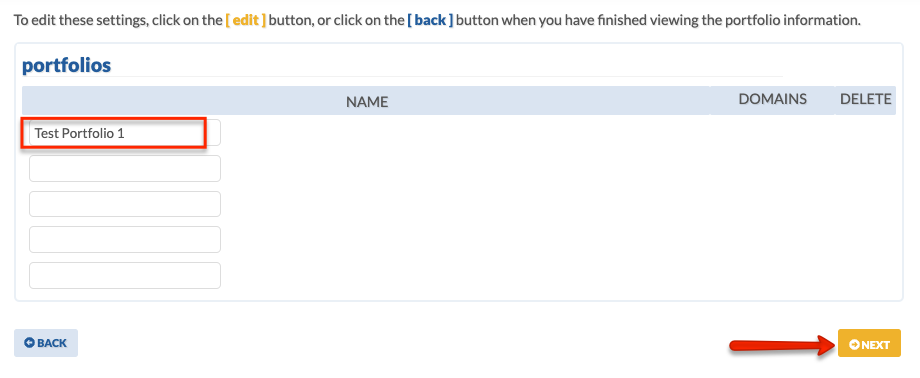 4. Confirm your changes.
Adding A Domain To Your Portfolio
1. Click on MANAGE for the domain you'd like to add to the portfolio.


2. Click on SET under DOMAIN SETTINGS.



3. Select your portfolio and click SET.


Sharing Your Portfolio
1. Click on DOMAIN PORTFOLIOS under the USER menu.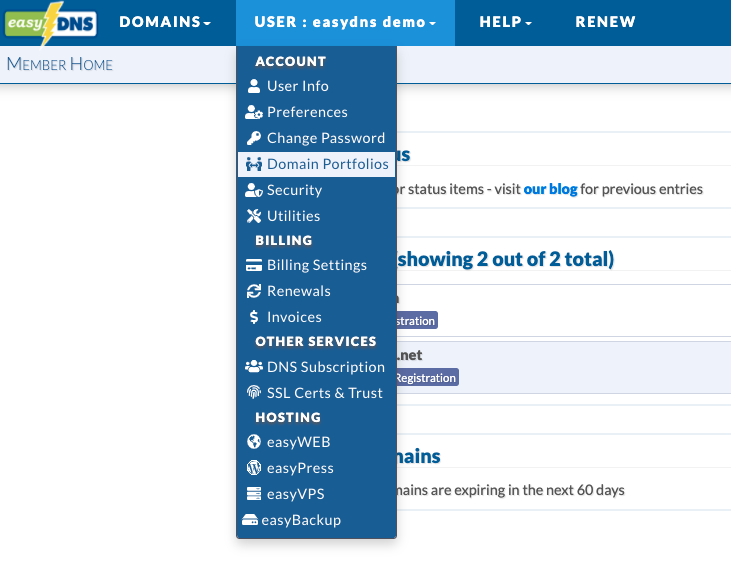 2. Select SHARED ONLY (instead of MY PORTFOLIOS) under the DOMAIN PORTFOLIOS section and click GO.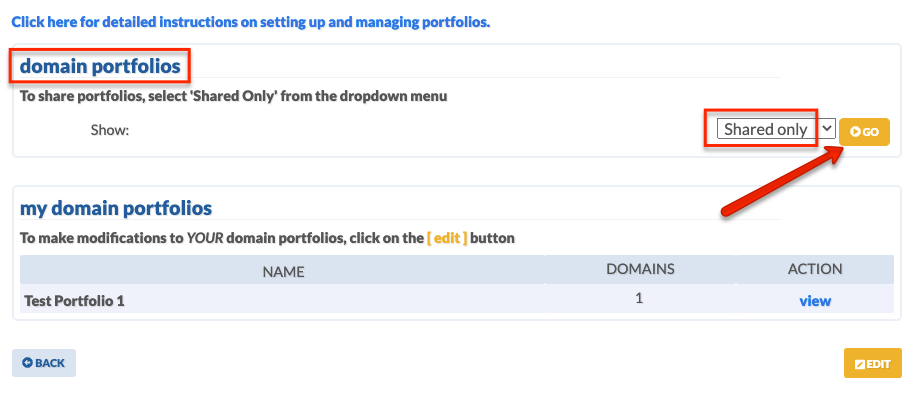 3. Click on EDIT under the MY SHARED PORTFOLIOS section.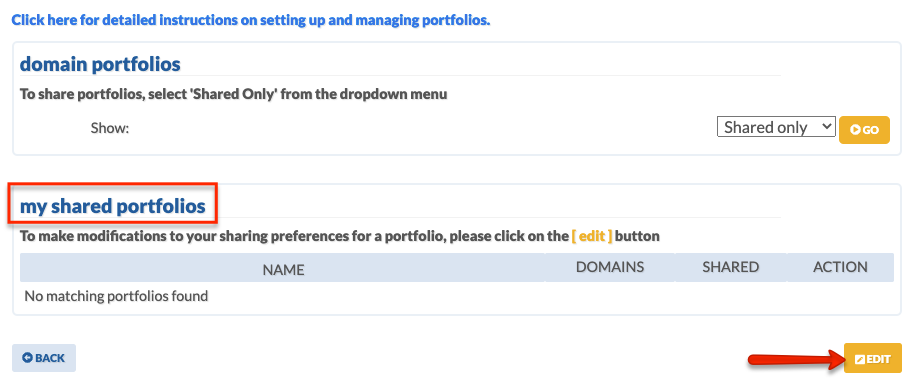 4. Enter the easyDNS user you'd like to share this portfolio with and choose the type of access you'd like to give. Click on NEXT.


WRITE allows shared users to edit and update the DNS records for domains in the portfolio. They will NOT have access to the WHOIS records (presuming the domain is registered through easyDNS in the first place).
WHOIS grants access to editing the WHOIS records for a domain registered through easyDNS, including ownership and authoritative name servers. It is recommended that this be shared selectively and with great caution, as this grants complete control over a domain.
ACTIVE tells you if sharing for this portfolio is currently enabled or disabled.
NOTE:
If the other party with whom you are sharing the Portfolio with do not have their own easyDNS account, they can create a free one at
https://cp.easydns.com/signup/
5. Confirm your changes
At this point the easyDNS user you shared this portfolio with should be able to see all the domains under their account. They'll just have to make sure they are choosing the correct folder under ACTIVE PORTFOLIO.