Knowledgebase
Bulk Editing and Information Retrieval
Posted by Shaker B. on 03 August 2016 12:05 PM
If you would like to make bulk changes to your zone records or grab information in bulk,  you can do so using the UTILITIES link on the left sidebar menu once logged into your easyDNS account.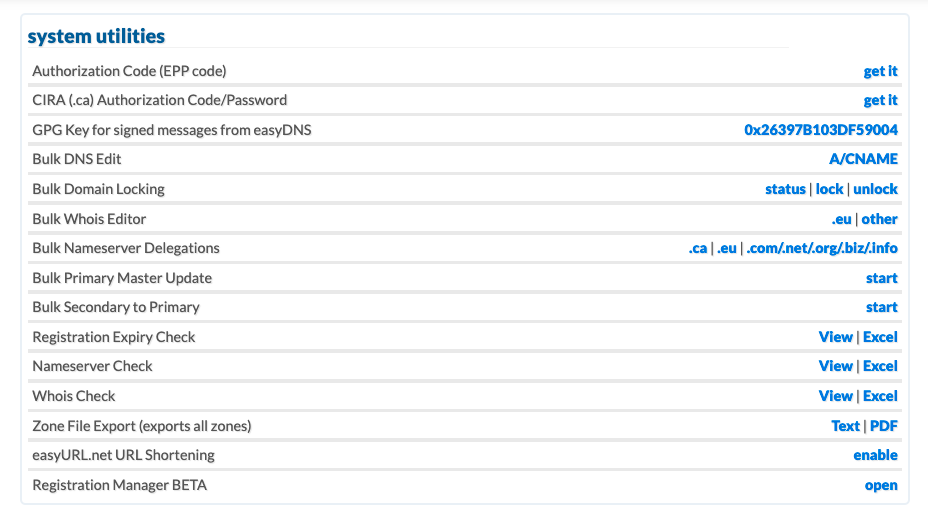 The UTILITIES link will also allow users to do the following in bulk:
Retrieve authorization/EPP codes
Bulk DNS edits
Bulk domain locking
Bulk Whois editing
Registration expiry checks
Nameserver checks
Zone file exports
URL shortening
Authorization/EPP Codes
Authorization codes are needed to transfer a domain away from a registrar. These codes can also be referred to as EPP codes, Transfer codes, and CIRA codes (for .CA domains). If you are looking to code for a .CA domain, please make sure to click on CIRA (.ca) Authorization Code/Password.
Bulk DNS Edit
This feature allows you to make bulk changes to your DNS records. Users are currently allowed to make changes to either their Hosts A records or Aliases CNAMEs.
Bulk Domain Locking
Bulk domain locking allows users to make bulk changes to their domain's registry locks. Users can either enable, disable, or obtain the status of selected .COM, .NET, .ORG, .BIZ and .INFO domains for which we are the registrar.
Bulk Whois Edit
Users can make changes to selected .COM, .NET, .ORG, .BIZ and .INFO domains for which we are the registrar. Sections users can edit include contact information and nameservers.
Registration Expiry Check
This feature allows users to check the expiration date of all their domains under their easyDNS account. Users can either view all the dates or export them to an Excel sheet.
Nameserver Check
The Nameserver Check feature allows a user to view the nameservers their domains are currently delegated to. Users can either view the server information or export it to an Excel sheet.
Zone File Exports
This feature allows the exporting of zone file information for all domains within the account. Users can download the information in either a plain text or PDF format.
URL Shortening
URL Shortening allows our users to use the easyURL feature to shorten their long URLs into shorter, more user-friendly ones.